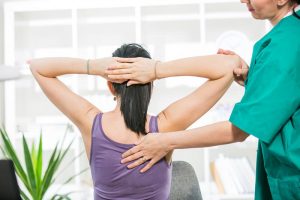 Elbow Pain Treatment From Our Chiropractor in New Haven
At North East Chiropractic Center, our skilled and experienced chiropractor in New Haven is here to provide you with the highest standard of care. One of the more frequent reasons patients come into our office is that of elbow pain. If you're experiencing elbow pain that is beginning to affect your daily life, then it's time to schedule an appointment with our very own Dr. Osenga and his dedicated team.
Common Causes of Elbow Pain
There are many potential causes of elbow pain, which is why we'll always recommend a thorough consultation in our office to ensure a proper diagnosis. If you're an athlete and play a sport like tennis, golf, or any other sport that involves heavy use of the arms, there is a chance that you could be experiencing tennis elbow. This condition occurs when the tendons in the forearm become torn, which leads to inflammation and thus pain.
On top of sports injuries, there are other possible causes of elbow pain to consider, including:
Tendinitis
Stress fracture
Strains and sprains
It's also important to understand the differences between a chronic and acute elbow injury. Specifically, a chronic injury refers to one that occurs over time, often as a result of repeated use. Tennis elbow is a prime example of this. An acute injury, on the other hand, is one that occurs suddenly during physical activity. A fracture or a sprain is an example of this type of injury. We're able to treat both chronic and acute elbow pain and related injuries here in our Fort Wayne office.
When to Call a New Haven Chiropractor for Treatment
If you're experiencing elbow pain or your elbow/forearm is tender to the touch, it may be time to schedule an appointment with our New Haven chiropractor. Another symptom that it's time to see a chiropractor is if you begin to experience difficulty in picking up or grabbing objects as a result of your pain—especially if symptoms don't reside within a few days of rest.
At North East Chiropractic Center, we offer elbow pain and sports injury treatment in Fort Wayne. We'll begin with an evaluation appointment, where we can run any necessary diagnostic tests to narrow down the specific cause of your pain. From there, using our whole-person approach, we can make a recommendation for the proper course of treatment based on your specific needs and lifestyle.
One of the many recommendations for sports injury treatment we often make is that of corrective exercises, which are great for promoting blood and oxygen circulation throughout the body, which in turn helps speed up your healing processes. These exercises, combined with massage therapy and chiropractic treatments, can also help build strength and improve your range of motion to prevent your chances of suffering a similar injury in the future.
Schedule an Appointment With Our Fort Wayne Chiropractor
If you're suffering from ongoing elbow pain, we encourage you to schedule your appointment with our Fort Wayne chiropractor. You can reach our team at North East Chiropractic Center at (260) 245-0460 to find out more about our services and sports injury treatment in Fort Wayne.