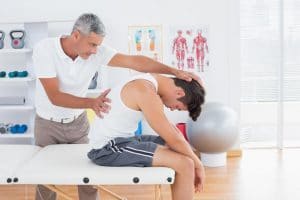 North East Chiropractic Center in Fort Wayne
Welcome to North East Chiropractic Center! Our Fort Wayne office is centrally located to provide chiropractic services to patients looking for a New Haven chiropractor, a chiropractor in New Haven, one in Maples, Townley, or any of the surrounding local communities. Our patients are finding that neck and back pain that they've had to deal with for years can be corrected with our doctors' help, through nutritional counseling, corrective exercises, and other methods of chiropractic care.
As a full-service holistic practice, our doctors believe in using every technique possible to allow the body to heal itself. We are a premier provider of services for sports injuries and rehabilitation. Our non-invasive treatments for sports injuries and performance problems include those for shoulder, knee, back pain, carpal tunnel syndrome, tennis elbow, and a wide variety of other problems, as well as sports chiropractic preventative care.
Anyone can have an auto accident injury, and one of the most common results of auto accidents is whiplash. Many of our patients don't feel any symptoms for days or even weeks after the initial accident. While whiplash isn't a serious injury, it can have long-term effects that can have consequences that are felt at work, at home, or during many leisure activities.
Perhaps the most common reason we see patients in our office is persistent, chronic back pain. Back pain, even the mildest variety, can be debilitating when it goes on for a long time. When our chiropractors treat back pain, the first step is to find the cause of the pain to help determine how to prevent it from happening again. Only after that will we attempt to treat the pain itself. Some of the treatment options we offer are spinal adjustments, exercises, lifestyle changes, and massage therapy.
Your Fort Wayne Chiropractor Team
Our primary Fort Wayne chiropractor, Dr. Adam Osenga, is a past instructor for the International Academy of Advanced Chiropractic Orthopedics. He and his wife have three daughters, who he's treated since the day they were born. Dr. Osenga's family truly lives a healthy chiropractic lifestyle.
Dr. Jamie Fidler joins our team from the Palmer College of Chiropractic, in Davenport, Iowa. Dr. Fidler is especially interested in nutrition and is currently working toward a degree in Functional Medicine. Originally from Michigan, Dr. Fidler is happy to now call Fort Wayne her home.
Make an Appointment
If you're in need of a New Haven chiropractor, give our office a call at (260) 245-2460 to schedule an appointment today.