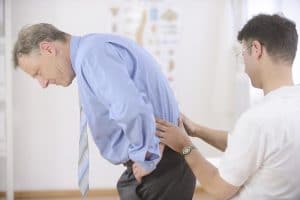 Back Pain From Your New Haven Chiropractor
Back pain affects adults of all ages and even some children. Treating back pain is often a multi-step process that involves determining the cause of the pain then making adjustments to the body to correct the problem and prevent further pain. At North East Chiropractic Center in Fort Wayne, we help our patients get upper, middle and lower back pain relief to help them avoid back pain and live better lives. As your New Haven and Fort Wayne chiropractor, we offer a range of treatments for patients experiencing back injury and chronic pain.
Causes of Upper, Middle, and Lower Back Pain from your Fort Wayne Chiropractor
There are many causes of upper, middle and lower back pain. Some of the most common causes include:
Poor lifting techniques. Poor lifting techniques can lead to injury that causes lower back pain.
Poor ergonomics. Poor ergonomics can lead to upper, middle or lower back pain, depending on the circumstances.
Stress. Stress can cause muscle tension, leading to back pain.
Chiropractic Treatment for Back Pain
At North East Chiropractic Center, we offer many chiropractic treatments to provide upper, middle and lower back pain relief to our patients:
Spinal adjustment. Spinal adjustment enables us to realign the vertebrae of the spine and relieve pressure on the spinal cord. Spinal adjustment helps relieve back pain while also encouraging the body to heal itself, thus preventing a recurrence of back pain.
Massage therapy. This technique helps loosen tight muscles, reduce pain from stress and tension, and improve circulation to injured parts of the body.
Therapeutic stretches and exercises. We teach our patients to do stretches at home and at work to restore proper range of motion to the muscles and improve muscle strength. This technique helps the body recover from injuries.
Lifestyle advice. Many patients cause their own back pain through their habits and behaviors. We teach our patients how to avoid behaviors that can cause back pain.
Nutrition counseling. Obesity can put pressure on the back muscles, causing back pain. Our nutrition counseling services can help patients control their weight and avoid unnecessary weight gain.
Benefits of Chiropractic Care
There are many benefits of chiropractic care, including:
All natural. Chiropractic care involves no additive medications and no invasive procedures.
Gentle. Spinal adjustment and other chiropractic treatments are gentle enough to help all patients but effective enough to handle the toughest pain.
Preventative. Patients who are at risk for chronic back pain and back injuries can see the chiropractor to reduce their risk and avoid further injury.
Contact Your Chiropractor in New Haven and Fort Wayne Today
As your New Haven and Fort Wayne chiropractor, Dr. Adam Osenga can help you manage your back pain naturally, without invasive procedures and addictive medications. We're here to help you manage your chronic pain or recover from your back injury! To make an appointment with your Fort Wayne and New Haven chiropractor, contact us today at 260-245-0460.