Shoulder Pain Treatment in Fort Wayne & New Haven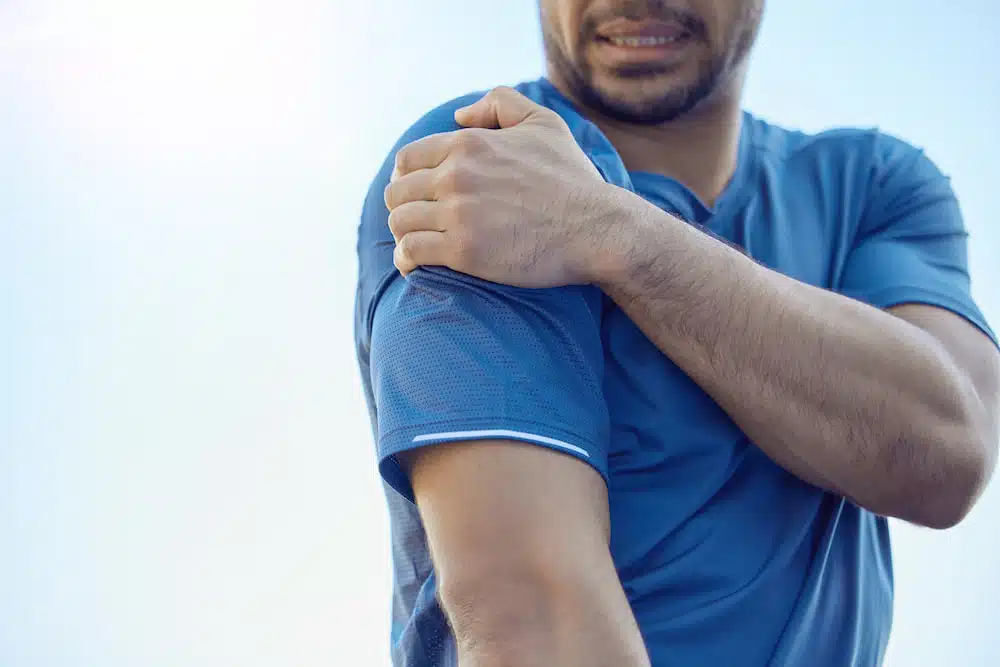 We are your destination for a reliable and professional shoulder pain treatment in Fort Wayne. We're here to cut through the complexity and focus on what matters – relieving your pain effectively.
Shoulder pain can disrupt your daily life, making routine tasks challenging. At Northeast Chiropractic Center, we understand how shoulder pain can impact your well-being. That's why we're committed to providing relief and a tailored approach to address the root causes of your discomfort.
Our team of medical specialists takes a practical and caring approach to shoulder pain treatment. No frills, just a sincere dedication to improving your daily life. Let's work together to ensure you can get back to your routine without the burden of shoulder pain.
Meet Our Fort Wayne Shoulder Pain Specialists
Dr. Adam Osenga
Dr. Adam Osenga, aka Dr. O, graduated with honors in Economics from Ohio State University and earned his chiropractic degree from Palmer College in 2008. He is certified in Chiropractic Sports and the Webster Technique and is committed to effective care. Dr. O, a member of various chiropractic associations, emphasizes his use of chiropractic care for his wife during pregnancy and his four daughters.
Dr. Keegan Gura
Dr. Keegan Gura, a Kendallville native, discovered chiropractic through a vocational program. After a degree in Exercise Science from Ball State, he pursued his chiropractic degree at Palmer College. Driven and involved, he enjoys sports, golf, lake outings, and family time.
Dr. Jared Laurent
Dr. Jared Laurent, born in New Haven, Indiana, holds an Exercise Science degree from Bethel College and played collegiate baseball. His chiropractic journey led him to Palmer College, where he became a teaching assistant. He values family time, outdoor activities, and sports outside the office.
Diagnostic Assessment and Evaluation
Your journey to relief begins with a detailed discussion of your medical history. We take the time to understand your lifestyle, previous injuries, and any contributing factors to your shoulder pain. This forms the foundation for a targeted and effective treatment plan.

Our physical examination goes beyond the surface. We assess your shoulder's range of motion and strength, delving into the specifics of your discomfort. By combining your medical history with a thorough physical examination, we gain valuable insights that guide our approach to your care.
Understanding the intricacies of your shoulder's range of motion and strength is crucial. Our range of motion and strength testing is a precise and practical way to evaluate the function of your shoulder joint. This aids in identifying any limitations or weaknesses that may be contributing to your pain.
In some instances, a deeper understanding is required. We recommend diagnostic imaging, such as X-rays or MRI, to get a clearer picture of your shoulder's internal structures. This allows for a more accurate diagnosis, ensuring we target the issues causing discomfort.
Shoulder Pain Treatment Options
In addressing shoulder pain in Fort Wayne, we offer tailored and effective treatment options to relieve you.
Chiropractic Care for Joint Alignment and Mobility
Chiropractic care forms the cornerstone of our approach. Our experienced practitioners focus on joint alignment and mobility, addressing the underlying causes of your shoulder pain. We aim to restore balance to your musculoskeletal system through targeted adjustments, promoting natural healing and improved functionality.
Massage Therapy for Muscle Relaxation and Pain Relief
Muscle tension is a significant contributor to shoulder pain. Our treatment includes massage therapy, a method proven to relax tense muscles and alleviate pain. Our skilled therapists work to release built-up tension, enhancing blood circulation and promoting relaxation in the affected area.
Non-Invasive Modalities for Pain Management
In our commitment to non-invasive care, we offer modalities that manage pain without resorting to surgery or invasive procedures. These may include cold therapy, heat therapy, activator technique, or electrical stimulation tailored to your needs. We aim to provide effective pain management while minimizing discomfort and recovery time.
Benefits of Our Specialized Treatment Approach
When searching for a "shoulder pain treatment near me" in Fort Wayne, choose Northeast Chiropractic Center's services for shoulder pain. Choosing us is opting for a treatment approach that prioritizes your well-being with precision and care.

Targeted Pain Relief and Improved Functionality
Our specialized approach is focused on enhancing your shoulder's functionality. We focus on targeted solutions that address the issues causing discomfort, aiming for tangible and lasting relief.
Non-Surgical and Drug-Free Treatment Options
Say goodbye to the complexities of surgery and the side effects of medications. Our approach is entirely non-surgical and drug-free. We believe in harnessing the body's natural healing ability and providing effective solutions without invasive procedures or pharmaceutical interventions.
Personalized Treatment Plans for Individual Needs
Your journey to shoulder pain relief is as unique as you are. Our personalized treatment plans consider your individual needs, tailoring our approach to address the factors contributing to your discomfort.
Addressing Underlying Causes for Long-Term Relief
We don't settle for quick fixes. Our focus is on uncovering and addressing the underlying causes of your shoulder pain. By tackling the root issues, we aim to provide immediate relief and long-term results, allowing you to enjoy sustained well-being.
Empowering Patients with Self-Care Strategies
Beyond the clinic, we empower you with self-care strategies. We aim to arm you with the knowledge and tools to participate in your well-being actively. From exercises to lifestyle adjustments, our goal is to equip you for a healthier, pain-free life.
What to Expect During Your Shoulder Pain Treatment
Embarking on your shoulder pain treatment journey with us involves a patient-centered process designed to relieve you and restore comfort.
Thorough Consultation and Examination
We begin with a comprehensive consultation and examination. We take the time to listen to your concerns, delve into your medical history, and thoroughly examine your shoulder. Our comprehensive approach allows us to understand the nuances of your pain and tailor a treatment plan that suits your unique needs.
Collaborative Approach to Treatment Planning
We believe in collaboration. Once we clearly understand your situation, we work with you to create a treatment plan. Your input is valued, and we ensure the plan aligns with your preferences and lifestyle. Our collaborative approach makes a sense of partnership in your healing journey.
Regular Follow-ups and Progress Monitoring
Consistency is key. Throughout your treatment, we schedule regular follow-ups to monitor your progress. These sessions allow us to make any necessary adjustments to your treatment plan, ensuring that you are on the path to recovery. We value transparency and keep you informed about your progress every step of the way.
Addressing Patient Concerns and Questions
Your comfort is our priority. We encourage open communication and are ready to address any concerns or questions. Whether explaining aspects of your treatment plan or providing additional guidance, we are here to keep you informed and supported throughout your shoulder pain treatment.
Why Choose Our Shoulder Pain Treatment Center in Fort Wayne
When finding effective shoulder pain treatment in Fort Wayne, our center is committed to excellence, personalized care, and advanced treatment methods.

Experienced Specialists in Shoulder Pain Management
Our team of trained specialists is dedicated to managing your shoulder pain. They bring a wealth of expertise in understanding and treating the complexities of shoulder discomfort. You can trust that your care is in the hands of seasoned specialists with a proven track record.
Comprehensive and Evidence-Based Approach
We believe in a comprehensive and evidence-based approach to shoulder pain management. Our methods are rooted in the latest research and proven practices, ensuring that your treatment plan is effective and aligned with the most current advancements in shoulder pain care.
Patient-centered Care and Compassionate Support
Your well-being is our priority. Our patient-centered approach revolves around you. We provide care that is not only effective but also compassionate. We understand the impact of shoulder pain on your daily life and are dedicated to offering the support you need.
State-of-the-Art Facilities for Optimal Treatment
Optimal care requires optimal facilities. Our center boasts state-of-the-art facilities with the latest technology for the best possible treatment. From diagnostics to therapeutic interventions, our commitment to excellence is reflected in the quality of our facilities.
Regain Your Mobility Today!
Our experienced specialists employ evidence-based practices, ensuring that your care is reliable and aligned with the latest advancements in shoulder pain treatment in Fort Wayne. We understand the impact shoulder pain can have on your daily life, and our patient-centered approach is designed to provide relief and compassionate support throughout your healing process.
If you're ready to regain mobility and alleviate shoulder pain, trust Northeast Chiropractic Center. Our state-of-the-art facilities and dedicated team are here to guide you toward a life with improved shoulder health. Take the next step towards your well-being – contact us today to embark on your journey to lasting shoulder pain relief.